Introducing App Icon Stickers
---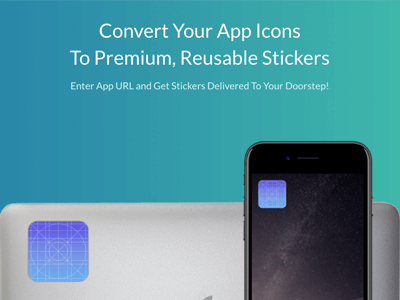 We are on the road map to add new and exciting services along with our design marketplace. The first one to be introduced is dedicated to all the amazing app developers out there. Whether you are developing for Android or be it for iOS, we are here to make your app feel special! With all the hard work you put in to build that app from ground up, having a sticker of the app icon is a must.
With this service, you can create the icon for any app out there listed on the play store or the app store. All our stickers are made up of our special Juststickers Reusable material so that ensures the stickers can be reused upto 99 times, don't leave any residue on removal, are scratch-proof and waterproof. All you need to do is:
1. Just copy the URL of the app from the play store or the app store.
2. Paste the URL in our input field to fetch and preview the sticker.
3. Place an order.
The stickers would be created and dispatched within a couple of days itself. The sticker would be of the size 2.2″ x 2.2″ (inches). Optimal enough to fit on the back of a smart phone or look epic on a laptop too!
What are you waiting for? Get your app icon today! App Icon Stickers
Would love to know any feedback or suggestions you have regarding our new service 🙂
---